About the Shop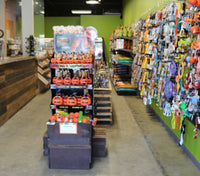 As our most northern store Dirty Dogs Carlsbad embraces the areas family centered vibe. We welcome customers and their furry loved ones to a fun, family, friendly environment. Our open concept offers customers a clear view into our all inclusive U-Do-It tubs, as well as peak through the glass into our professional grooming salon that is home to award winning groomers and bathers 7 days a week. With a wide range of biologically appropriate natural food, treats, and accessories on your way to the front counter, you're sure to find the perfect product for your furry loved one.
Dirty Dogs Carlsbad is located in a convenient Center off Palomar Airport Road and El Camino Real. Less than two miles away from the largest dog park in Carlsbad, Alga Norte Dog Park, as well as right next door to the San Diego Humane Society.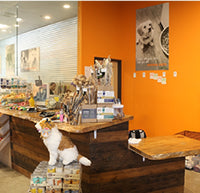 Wash & Grooming Services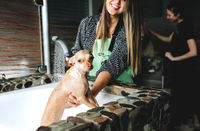 U-Do-It Scrub
Our do-it-yourself wash has everything you need: premium tubs, warm water, no time limit and professional instruction. We provide a number of additional items that will make your DIY experience exceptional.
Natural Shampoo & Conditioners
Towels & Blow Dryers
Brushes & Combs
Ear Cleaner & Cotton Balls
Cologne & Perfume
LEARN MORE
Dog-E-Style Salon
With undivided love and attention, our award winning stylist treats your pet like family.
Cage-Free
Transparent Salons
All Inclusive Packages
Premium Shampoos & Conditioners
One Pet Per Stylist
BOOK ONLINE NOW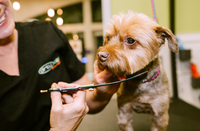 Dirty Dog & Meow Locations