About the Shop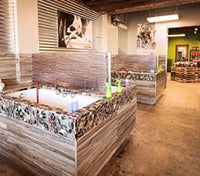 Solana Beach is the closest dog wash to Del Mar Dogs Beach. We placed all we learned over the last 8 years and designed a great experience. With 6 U-Do-It quarry rock lined tubs, largest Bully Bar selection. Food Toys Treats & Gear. and our Dog-e-Style Salon will only show our care for you pet. We started by gutting out this building completed in 1924 and turned it into our model store for our future growth.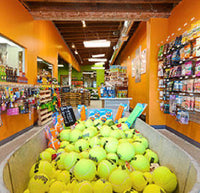 Wash & Grooming Services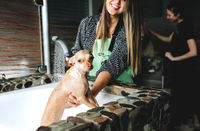 U-Do-It Scrub
Our do-it-yourself wash has everything you need: premium tubs, warm water, no time limit and professional instruction. We provide a number of additional items that will make your DIY experience exceptional.
Natural Shampoo & Conditioners
Towels & Blow Dryers
Brushes & Combs
Ear Cleaner & Cotton Balls
Cologne & Perfume
LEARN MORE
Dog-E-Style Salon
With undivided love and attention, our award winning stylist treats your pet like family.
Cage-Free
Transparent Salons
All Inclusive Packages
Premium Shampoos & Conditioners
One Pet Per Stylist
BOOK ONLINE NOW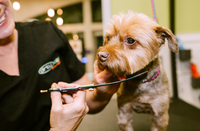 Dirty Dog & Meow Locations