Our Mission
We are dedicated to raising the standards of pet care in San Diego, providing healthy nutritional foods, cage-free grooming, self-serve washing facilities and many accessory products. We inspire our customers to provide their pets with the best quality products and services at the most competitive price points. We promise to put our customers' pets' health and happiness before profits. Our staff is knowledgeable and the atmosphere is fun, we guarantee that you… Enjoy the experience
Adopt. Don't Shop.
Wash & Grooming Services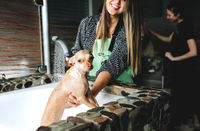 U-Do-It Scrub
Our do-it-yourself wash has everything you need: premium tubs, warm water, no time limit and professional instruction. We provide a number of additional items that will make your DIY experience exceptional.
Natural Shampoo & Conditioners
Towels & Blow Dryers
Brushes & Combs
Ear Cleaner & Cotton Balls
Cologne & Perfume
LEARN MORE
Dog-E-Style Salon
With undivided love and attention, our award winning stylist treats your pet like family.
Cage-Free
Transparent Salons
All Inclusive Packages
Premium Shampoos & Conditioners
One Pet Per Stylist
BOOK ONLINE NOW